Because of the help of our community partners, volunteers, funders, and donors like you, we have been able to provide help a newcomer adjust to their new home since 1985. Our goal is to raise $25,000 in funds to help support our programs. RMCS helps newcomers overcome boundaries and learn skills that will help them lead productive lives as part of a community.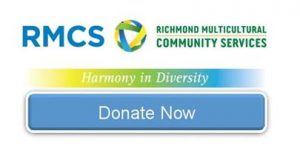 Three easy ways to make a monetary donation:
ONLINE: Please go HERE for easy online donation. You can choose either a monthly or one-time donation as well! CanadaHelps will issue the donation receipt.
BY PHONE: You can call at 604-279-7160 and speak to Yoshimi or Ashley between Monday and Friday, from 9am to 5pm. They will be happy to help you make your donation using your credit card.
BY MAIL: You can send your donation in the form of a cheque or money order to: Richmond Multicultural Community Services, 210-7000 Minoru Boulevard, Richmond BC V6Y 3Z5
The other way to make a difference is by volunteering! Please contact Neena Suri, our volunteer coordinator at volunteercoordinator@rmcs.bc.ca to join us!
RMCS is fortunate to have a partner with GeeNees to have their support as well. You can make an in-kind donation by going through their website as well.
Would your company/business be interested in opportunities to partner and/or sponsor RMCS programs and services?  Please contact Yoshimi Vanrenen, the Executive Assistant at yoshimi@rmcs.bc.ca.